Retired Mesa master police officer Bill Richardson lives in the East Valley and can be reached at bill.richardson@cox.net.

Retired Mesa master police officer Bill Richardson lives in the East Valley and can be reached at bill.richardson@cox.net.
Retired Mesa master police officer Bill Richardson lives in the East Valley and can be reached at bill.richardson@cox.net.
Monday, June 4, 2007 8:43 pm
Presidential hopeful Bill Richardson said the immigration reform bill now being considered by Congress is flawed and should be changed.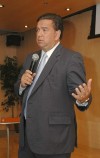 President contender Bill Richardson spoke to supporters Monday in Phoenix. (Capitol Media Services photo by Howard Fischer)

New Mexico Gov. Bill Richardson gives his State of the State address during the opening of the legislative session at the Capitol in Santa Fe, N.M., Tuesday, Jan. 16, 2007.
Thursday, February 5, 2009 6:37 pm
 In May 2008, Tucson police estimated 60 percent of the illegal drugs that enter the United States come through Arizona, the Arizona Daily Star reported.
Saturday, January 20, 2007 12:43 am
WASHINGTON - After years of freelancing his diplomatic skills from the unlikely position as governor of New Mexico, Bill Richardson is taking the first step toward a bid to become president and put his skills to work in the White House.
Thursday, May 15, 2008 12:00 am
When I read that Tempe Mayor Hugh Hallman wants to spend $450,000 to redesign the city's railroad crossings to help reduce noise from trains that run through some of the Tempe's wealthiest neighborhoods, it made me all warm and fuzzy.
Friday, May 2, 2008 11:36 pm
The sign of a true leader is someone who hasn't forgotten where they came from and those who have always looked up to their wisdom and concern for the well-being of the little guy.

New Mexico Gov. Bill Richardson will visit Arizona this week.

STUMPING: Democratic presidential hopeful New Mexico Gov. Bill Richardson rallies supporters Saturday in Concord, N.H.
Wednesday, June 20, 2007 3:41 pm
Add Democrat Bill Richardson to the list of past and potential future presidents campaigning in the Valley this week.
Wednesday, December 3, 2008 10:52 am
CHICAGO - President-elect Barack Obama named New Mexico Gov. Bill Richardson as commerce secretary on Wednesday, filling a top economic post in troubled times and placing a second former campaign rival in his new Cabinet.
Friday, September 21, 2012 6:41 am
Duty, honor, country: Those three hallowed words reverently dictate what you ought to be, what you can be, what you will be. They are your rallying point to build courage when courage seems to fail, to regain faith when there seems to be little cause for faith, to create hope when hope becomes forlorn. -- General Douglas MacArthur, Thayer Award Speech, 1962
Thursday, February 19, 2009 9:48 pm
Ladies and gentlemen, boys and girls, and children of all ages, once again it's show time.
Friday, April 25, 2008 12:50 am
Thursday, June 12, 2008 6:07 pm
The preliminary 2007 FBI crime figures are out. East Valley cities are reporting an average reduction in serious crime of 5.5 percent. Tempe had the biggest decrease with a 9.82 percent drop.
Wednesday, January 9, 2008 8:25 pm
MERRIMACK, N.H. - New Mexico Gov. Bill Richardson ended his campaign for the presidency Wednesday after twin fourth-place finishes that showed his impressive credentials could not compete with his rivals' star power.
Friday, October 28, 2011 5:30 am
Gone from the busy corners in Mesa and the East Valley are the illegal aliens who gathered looking for work. Also gone are the low-paid workers who found homes at restaurants, car washes and construction sites where business owners could pay cash and cheat the tax man thanks to Arizona's failed statewide law enforcement system.
Thursday, October 13, 2011 12:05 pm
There are big problems in the Arizona Department of Public Safety, the state agency that, according to its mission statement, is supposed "to protect human life by enforcing state laws, deterring criminal activity and ensuring public safety."
Friday, October 10, 2008 8:06 pm
Cities in Maricopa County are in trouble.
Saturday, August 23, 2008 6:53 pm
My Aug. 8 column, "Police agencies here, in Mexico, work together to nab suspect," was about the happy ending to an unhappy story, thanks in large part to the use of 21st century police technology by East Valley police agencies, including CSI-like forensics, top-of-the-line information-sharing systems and exemplary cooperation. It's a model for the rest of the state.
Thursday, May 3, 2012 3:18 pm
I want to thank David Gonzales, the U. S. Marshal for Arizona, for once again leading the effort to identify, locate and arrest wanted felons who have fled from justice. During the week of April 16, Gonzales and his deputies — with the cooperation of local police, the sheriff, state police and probation officers — led efforts to arrest more than 200 wanted felons.