Pinal County Sheriff Paul Babeu discusses the arrest of a member of Mexico's Sinaloa drug cartel at a news conference Tuesday, Nov. 1, 2011 in Florence. (AP Photo/Amanda Lee Myers)

Matthew Allen, right, special agent in charge Homeland Security Investigations in Arizona, and Arizona Attorney General Tom Horne listen to Pinal County Sheriff Paul Babeu, middle, during a news conference as a variety of law enforcement agencies announce a bust on a major drug smuggling ring in Arizona, Monday, Oct. 31, 2011, in Phoenix. Operation "Pipeline Express" has netted 76 arrested, has seized 61,573 pounds of marijuana, 213 pounds of cocaine, 158 of heroin, $758,908 in cash, 83 vehicles, 108 weapons, and 4 ballistic vests, all linked, according to law enforcement, to a faction of the Sinaloa Cartel based in Sonoyta, Sonora, Mexico. (AP Photo/Ross D. Franklin)

Pinal County Sheriff Paul Babeu checks out one of the seized weapons after a news conference, as multi-jurisdictional law enforcement agencies announce a bust on a major drug smuggling ring in Arizona, Monday, Oct. 31, 2011, in Phoenix. Operation "Pipeline Express" has netted 76 arrested, has seized 61,573 pounds of marijuana, 213 pounds of cocaine, 158 of heroin, $758,908 in cash, 83 vehicles, 108 weapons, and 4 ballistic vests, all linked, according to law enforcement, to a faction of the Sinaloa Cartel based in Sonoyta, Sonora, Mexico. (AP Photo/Ross D. Franklin)

Paul Babeu at the Grace Inn in Ahwatukee Foothills Tuesday.
Friday, May 11, 2012 5:04 pm
Pinal County Sheriff Paul Babeu, whose congressional campaign took a hit when he disclosed that he was gay amid allegations that he threatened a former Mexican boyfriend with deportation, dropped out Friday, opting to run for re-election as sheriff instead.
Thursday, September 1, 2011 8:53 am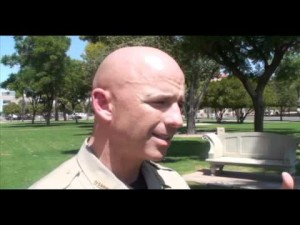 The two dozen members of the Department of Public Safety's Highway Interdiction Program don't get much publicity, but an official says the unit has made an impact on the smuggling of drugs, people and currency.

File - This Oct. 7, 2010 file photo shows Pinal County Sheriff's Deputy Louie Puroll, left, during a news conference as Pinal County Sheriff Paul Babeu answers a question, at the Pinal County Sheriff's complex, in Florence, Ariz. Arizona officials on Monday, Jan. 3, 2011, reopened the investigation into a deputy's explanation of how he was shot in the remote desert south of Phoenix amid speculation it was a hoax timed to enflame the debate over illegal immigration. The Pinal County Sheriff's Office announced its decision Monday after two nationally known forensic pathologists raised questions. (AP Photo/Ross D. Franklin)
Friday, December 10, 2010 5:00 am
It's going on eight months since Pinal County Sheriff's Deputy Louie Puroll reported being shot by smugglers while patrolling alone, out of uniform and without a radio, in the Vekol Valley west of Casa Grande. An area Pinal County Sheriff Paul Babeu has repeatedly said is controlled by Mexican drug cartels. 

Paul Babeu, pictured in 2008 during his initial campaign for Pinal County Sheriff.
Wednesday, September 26, 2012 7:36 am
Losing any local county Sheriff would be significant to regional law enforcement and would shake up the political landscape, since Arizona Sheriffs are usually the heavyweight in their respective county. The death of Cochise County Sheriff Larry Dever is far more significant, since he was a leader among elected Sheriffs and clearly helped shape a more reasonable conversation on border security.
Thursday, February 23, 2012 6:09 pm
Lawyers for a Mexican immigrant who had a romantic relationship with Pinal County Sheriff Paul Babeu denied allegations that their client hacked into online accounts for Babeu's congressional campaign.
Thursday, January 5, 2012 2:09 pm
The fight to represent a far-flung congressional district could be determined by how Arizonans feel about whether children of illegal immigrants are entitled to U.S. citizenship.
Friday, November 4, 2011 12:26 pm
DES MOINES, Iowa — Republican presidential candidate Mitt Romney paid for automated telephone messages in Iowa accusing rival Rick Perry of contributing to illegal immigration.
Friday, September 2, 2011 4:00 am
Wednesday, April 13, 2011 3:28 pm
Pinal County Sheriff Paul Babeu says a six-month investigation into alleged misconduct by the Maricopa County Sheriff's Office has been completed. However, Babeu says his office is prohibited by law from releasing any details of the probe.
Thursday, March 17, 2011 4:00 pm
Should the Legislature spend $1.4 million for life saving transplants, or $5 million for Pinal County Sheriff Paul Babeu? Gourmet coffee is indeed expensive.
Friday, March 11, 2011 3:00 pm
Pinal County Sheriff Paul Babeu will speak at a Gilbert Republican Women meeting next week.
Friday, July 24, 2009 6:45 pm
Pinal County Sheriff Paul Babeu hired a former Chandler police officer who was at the center of two wrongful death lawsuits that ended in almost $5 million in settlements.

Officer Dan Lovelace, shown in this file photo when he was with the Chandler Police Department, was at the center of two wrongful death lawsuits during his time in Chandler. The lawsuits ended in almost $5 million in settlements.

Maricopa County Sheriff Joe Arpaio walks Thursday through the command center area at the sheriff's District 1 substation in Mesa during a day of crime suppression sweeps through the East Valley. July 23, 2009.
Tuesday, January 13, 2009 11:42 am
Pinal County's new sheriff has announced his management team.

Pinal County Sheriff Paul Babeu.