Wednesday, April 10, 2013 3:00 pm

Most people know what it's like to pull up a chair at a family reunion or holiday meal, but not many have tucked their toes under the table at a community harvest feast. Several local art and community organizations are hoping to change that with Saturday's "Feast on the Street" in downtown Phoenix.

Diners gather on London's Southwark Bridge for a Feast on the Street supper in that city. Clare Patey, ASU Art Museum's international visiting artist, is bringing a similar event April 13 to downtown Phoenix.
Thursday, April 4, 2013 3:00 pm
Using nothing more than the soot from a wood burning stove mixed with his own saliva, deaf artist James Castle used this homemade ink to communicate with the world.
Wednesday, February 20, 2013 5:27 am
Astronauts from NASA will land across the Valley to participate in events for the public in the coming weeks. The astronauts, specifically chosen by NASA for these events, are in Arizona to promote and raise awareness on space programs and exploration — just as the state's "SciTech Festival" fires its boosters.
Sunday, February 17, 2013 10:30 am
When Bill Keller landed a store manager's job with Dillard's department store in the Valley 34 years ago, his wife, Dianne, said she wasn't excited about moving to Arizona, much less Mesa — from Minneapolis.
Sunday, January 13, 2013 6:37 am
Thirty-five student teams from The Design School at the Arizona State University Herberger Institute for Design and the Arts will begin a 10-day competition to develop ideas to improve, enhance and redesign interior and exterior spaces at the Arizona Museum for Youth in Mesa.
Thursday, January 3, 2013 9:00 am
Kids with a penchant for Play-Doh or modeling clay can follow in the footsteps of a master artist on Saturday.
Thursday, December 27, 2012 11:21 am
Already explored birding hotspots in Chandler, Gilbert, Mesa and even Superior? Try heading the other direction, to Deer Valley Rock Art Center, an outdoor archaeology museum in northwest Phoenix with the largest concentration of Native American petroglyphs in the Valley.
Thursday, December 20, 2012 6:15 am
One trip to Chandler Fashion Center, a call to Ticketmaster, two online transactions and several stops at East Valley mom-and-pop shops in the bag, and my Christmas shopping is complete.
Friday, November 30, 2012 1:30 pm
Bright, clear, 80-degree days. This is what you get with a desert December, and it's what youngsters and their families can explore Dec. 1 at ASU Art Museum.
Monday, October 1, 2012 12:00 am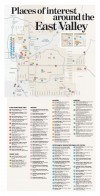 Tuesday, September 18, 2012 5:30 am
Performing Arts 2012-13 season preview
Thursday, August 2, 2012 7:16 am
Join other families at ASU Art Museum's First Saturdays from 11 a.m. to 3 p.m. this Saturday to make a colorful hand-felted wall hanging.
Friday, July 13, 2012 2:15 pm
From the moment they step out of the glaring sun and into the dark shade of its cool concrete corridors, kids can dig the ASU Art Museum. With fountains, a staircase leading up its backside, and a generally cave-like feel, just exploring the exterior of the pink-gray structure can feel like an adventure.
Wednesday, July 11, 2012 4:45 pm
Out there among the bursage and prickly pear, the boulders relay messages from another time, when hardy, sun-browned people took sustenance from the desert. You can see the story they left behind Friday on a twilight tour through hundreds of symbols carved in stone.

"Dragonflies, Bison and a Few Favorite Horses," a 2011 screen print with inkjet and blind embossing by Northern Arapaho/Seneca artist Dallin Maybee, is among the pieces on display in ASU Art Museum's Arizona tribute exhibition.
Wednesday, July 11, 2012 9:45 am
Make a bolo tie, watch performances by the Great Arizona Puppet Theater, dance with Zumbatomics, and visit with PBS characters Maya and Miguel at the ASU Art Museum.
Thursday, May 17, 2012 2:15 pm
Antenna. Legs bearing claws. Compound eyes. Feathery, scaly and leathery wings.
Tuesday, May 1, 2012 5:15 pm
Imagining the future has always been a creative enterprise, spawning favorites like "Out of the Silent Planet," "1984," "Star Wars" and most recently "The Hunger Games." These books and films draw inspiration from the future's blank slate, much like families and children are encouraged to do Saturday at the ASU Art Museum in correlation with "Emerge: Redesigning the Future."

In March, ASU hosted "Emerge," a conference imagining the future that included an improvisational performance with outfits designed by theatre students. The gallery at ASU Art Museum displays a video of the performance, complete with otherworldly costumes and music, and you can see Saturday during "Emerge: Redesigning the Future."
Saturday, April 28, 2012 4:12 pm
Visit the inaugural First Saturday for Families at ASU Art Museum in Tempe and discover the new "Emerge: Redesigning the Future" exhibition. The event is 11 a.m. to 3 p.m. Saturday, May 5.
Friday, April 13, 2012 10:45 am
From rattlesnakes and pack rats to tortoises and javelinas, no author has made Arizona's fauna so enthralling for kids than Tempe's Conrad J. Storad.
Friday, April 13, 2012 10:45 am
From rattlesnakes and pack rats to tortoises and javelinas, no author has made Arizona's fauna so enthralling for kids than Tempe's Conrad J. Storad.