Arthur Douglas Harmon

A rented white Kia Optima sedan is seen in a parking lot in a Phoenix suburb that was likely driven by shooting suspect Arthur Douglas Harmon, in Mesa, Arizona on Thursday, Jan. 31,2013. A body matching Harmon's description was found nearby with an apparent self-inflicted gunshot wound, spokesman Sgt. Steve Martos said. Harmon is a suspect in a mass shooting that killed a man and critically wounded another. (AP Photo/Jacques Billeaud)
Thursday, January 31, 2013 2:25 pm
A body found early Thursday among bushes in the parking lot of the Bass Pro Shops at Mesa Riverview has been positively identified as the man who killed a company CEO and critically wounded a lawyer a day earlier, police said.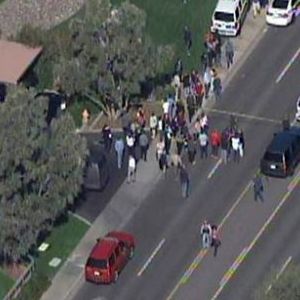 Police have identified the suspect who shot three people Wednesday morning at a Phoenix office complex. Phoenix police told ABC15 the suspect is 70-year-old Arthur Douglas Harmon. ABC15 first heard reports of the shooting around 10:45 a.m. at the complex off 16th Street north of Glendale Avenue in the lobby of the law firm, DeConcini McDonald Yetwin & Lacy, P.C. Local law firm Osborn Maledon identified one of the people shot as Mark Hummels. It's unclear what his condition is at this time. He was representing a client in mediation at the time of the shooting, according to an Osborn Maledon statement.
Friday, February 1, 2013 11:35 am
A second victim in Wednesday's Phoenix office shooting has died, according to his law firm Friday.
Saturday, January 31, 2004 6:26 am
Arizona Baseball Charities is inviting the public to view and purchase some rare baseball memorabilia Wednesday.