Becky Sigmond, sale and marketing director for Amazing Jake's Food & Fun, takes a spin in a tea cup at the new indoor theme park and pizza parlor opening later this month in Mesa.
Wednesday, July 13, 2005 11:30 am
The carousel and tea cup rides are ready to spin, the gocarts are lined up on the track and the space-themed wall in the cosmic bowling alley looms over the partly completed and soon to be black-lighted lanes.
Wednesday, July 13, 2005 6:27 am
The carousel and tea cup rides are ready to spin, the gocarts are lined up on the track and the space-themed wall in the cosmic bowling alley looms over the partly completed and soon to be black-lighted lanes.
Friday, February 15, 2008 4:54 am
Jessica Hanley's face is flushed with excitement. The 8-year-old Gilbert girl jumps out of a red go-kart at Mesa's Amazing Jake's and wraps her dad in a big bear hug.

LET'S GO: Mesa resident Jose Ortiz and daughter Aaliyah, 4, whip around the cart track at Amazing Jake's.

MINIATURE PUTTING: George Hayes of Phoenix gives grandson Michael Winslow, 8, visiting from Georgia, a few pointers.
Wednesday, January 18, 2006 5:39 am
It's the images that dog Jake Plummer. The behind-the-back lateral he threw against the Oakland Raiders in 2002. The left-handed pass he threw against the Kansas City Chiefs last year.
Sunday, May 25, 2008 7:57 am
If Jake Wekell has any say, Arizona boys volleyball is about to get a little more respect.
Thursday, August 30, 2012 11:45 am
With his remarkable feature directorial debut, "Robot and Frank", Jake Schreier joins Benh Zeitlin and Craig Zobel as one of Hollywood's most promising directors to break out this year.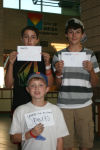 Youth share what keeps them "above the influence" and away from drugs and alcohol during last year's 4/20 event hosted by the Mesa Prevention Alliance. This year, the alliance is hosting its event at Mesa's Amazing Jakes.
Saturday, April 30, 2005 6:51 am
A California company that has developed 18 diningentertainment complexes around the country has chosen Mesa as an ideal location to debut its new concept aimed at young families.
Saturday, April 30, 2005 6:52 am
Monday, November 9, 2009 11:30 am
Police are searching for two men in their late teens or early 20s accused of entering Amazing Jake's Pizza Factory wearing Halloween-type masks and robbing the business at gunpoint late Sunday.
Monday, May 31, 2010 2:40 pm
Chaparral Elementary School in the Higley Unified School District will hold kids summer camp Tuesday through Aug. 3.
Tuesday, April 16, 2013 6:00 am
With as many as 35 percent of Mesa eighth graders admitting to at least trying alcohol, the Mesa Prevention Alliance is planning an event this weekend to show them there's another lifestyle to choose.
Tuesday, March 11, 2008 12:17 pm
A Phoenix woman's night of fun at a Mesa restaurant and arcade evolved into a criminal charge Tuesday after she lost track of her 5-year-old son for 18 hours.
Monday, March 10, 2008 11:50 am
Police talked with a woman late Monday who said she is the mother of a little boy who was found Sunday night at a Mesa indoor amusement park.
Thursday, December 1, 2011 11:59 am
I read one reporter suggesting ASU doesn't have successful programs in athletics like USC and Oregon, especially football, because of lack of support of wealthy alumni. This was not the case in the 1970s and 80s.
Friday, March 6, 2009 5:10 pm
Dozens of Queen Creek Elementary preschoolers to fifth-graders, staff and family members have shaved their heads or dyed their hair wild colors to show support for a popular student undergoing chemotherapy.
Sunday, December 12, 2004 7:10 am
Dan Marino, one-time recordsetting quarterback for the Miami Dolphins but now an analyst for CBS sports, tried in an interview earlier this season to get Colts quarterback Peyton Manning to reveal how Manning would try to stop the Colts' offense.
Tuesday, February 12, 2008 2:01 am
Carol Barbee will never look at TV viewers the same way again. Last May, CBS canceled her freshman drama "Jericho." But after receiving more than 40,000 pounds of peanuts from devoted and outraged fans, the network reversed course, picking up the post-apocalyptic drama for a seven-episode second season.
Friday, May 19, 2006 5:27 am
The band played Thursday, and the kids screamed. Twenty-one slightly embarrassed youths in dress shirts, ties and dresses filed onto the stage in the auditorium of Mesa's Stapley Junior High School.
Friday, May 19, 2006 5:28 am
The band played Thursday, and the kids screamed. Twenty-one slightly embarrassed youths in dress shirts, ties and dresses filed onto the stage in the auditorium