Chart shows that people tend to make higher bets when intoxicated.
Monday, November 29, 2010 4:48 pm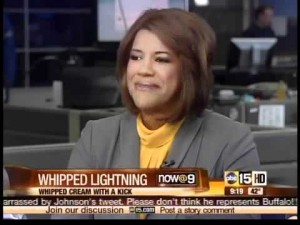 Now@9 was wondering if the FDA knows anything about whipped lightning. Apparently kids on college campuses do.

In this Nov. 10, 2010 file photo, Four Loko alcoholic energy drinks are seen in the cooler of a convenience store, in Seattle. The Food and Drug Administration is expected to announce a virtual ban of alcoholic energy drinks Wednesday, Nov. 17, 2010, even as a leading manufacturer is pulling its products off the market. (AP Photo/Elaine Thompson, file)
Thursday, May 10, 2007 12:46 am
I used to walk into the Diamondbacks clubhouse after games, see Mark Grace with a beer and think nothing of it. Then Josh Hancock died.

Tragic impetus: The death of St. Louis Cardinals pitcher Josh Hancock has prompted major league teams to examine their clubhouse alcohol policies.
Tuesday, July 1, 2003 9:47 am
A weekend sting operation targeting alcohol sales to those underage ended up with several Mesa businesses getting stung.
Wednesday, September 20, 2006 6:35 am
For recovering alcoholics, the temptations are everywhere. At parties. Restaurants. Sporting events. Wedding receptions. The liquor store down the street. And their own kitchens. That liter of marsala for veal marsala? Poison. The tiny bottle of vanilla extract? A setback waiting to happen.

ILLUSTRATION BY JERILEE BENNETT, FREEDOM NEWS SERVICE
Friday, January 30, 2009 2:39 pm
A vote by members of the Salt River Pima-Maricopa Indian Community to allow the serving of alcohol at restaurants along the Loop 101 corridor is a "huge plus" for the redevelopment of the Scottsdale Pavilions shopping center, according to Marty De Rito, developer of the project.
Tuesday, June 3, 2008 7:06 pm
At least one industry seems to be relatively recession-proof. Rising gas prices and tumbling housing tabs don't impact beer budgets.
Thursday, April 10, 2008 9:04 pm
BevMo, a specialty alcohol retailer, is also in expansion mode in the Valley.
Wednesday, October 10, 2007 10:27 pm
LOS ANGELES - David Hasselhoff was released from a hospital Wednesday after being treated for alcoholism, his publicist said. "David had a brief relapse and immediately recognized the importance of addressing it with the assistance of his doctors," Judy Katz said in a statement.

David Hasselhoff poses for the photographers prior to the UK premiere of his new film \'Click\', in central London, in a Wednesday Sept. 27, 2006 file photo.
Tuesday, December 12, 2006 7:05 pm
Members of the Salt River Pima-Maricopa Indian Community voted Tuesday against allowing alcohol to be sold by the glass in restaurants that are planned for the Pima Corridor.
Wednesday, December 6, 2006 5:31 pm
Members of the Salt River-Pima Indian Community will vote Tuesday whether to allow the sale of alcohol by the glass at restaurants along the Pima Freeway corridor.
Friday, October 20, 2006 9:40 pm
NASHVILLE, Tenn. - Keith Urban has checked himself into a rehabilitation treatment center for alcohol abuse, less than four months after his marriage to actress Nicole Kidman. The Grammy-winning country singer released a statement Friday that said he entered rehab Thursday night with his wife by his side.

Keith Urban walks across the stage to accept his award for video of the year at the CMT Music Awards show in this file photo from April 10, 2006 in Nashville, Tenn.
Wednesday, August 9, 2006 1:25 pm
LOS ANGELES - Robin Williams is seeking treatment for alcoholism, publicist Mara Buxbaum said Wednesday. The 55-year-old comedian had been sober for 20 years, Buxbaum said.

Robin Williams
Monday, July 4, 2005 5:33 am
A local arts organization wants to build a world-class performing and visual arts center adjacent to three Cave Creek schools.
Monday, July 4, 2005 5:33 am
A local arts organization wants to build a world-class performing and visual arts center adjacent to three Cave Creek schools.
Sunday, July 18, 2004 6:51 am
ROOSEVELT LAKE - The group in the pontoon boat on Roosevelt Lake was not happy.