Sunday, March 6, 2011 5:52 pm

The governor of the 48th state was in the 49th state Sunday.
Sunday, July 19, 2009 1:54 pm
UNALAKLEET, Alaska — She was greeted like a rock star in Unalakleet, a fishing village on the Bering Sea. She danced with Eskimos in Kotzebue. And she watched grizzlies at a wildlife sanctuary on the Kenai Peninsula. In all, Sarah Palin has been on eight trips outside her Anchorage base since announcing her resignation two weeks ago. Is this a farewell tour, the start of a possible presidential campaign for 2012?
Monday, June 22, 2009 2:05 pm
ANCHORAGE, Alaska — A strong earthquake jolted Anchorage, Alaska, on Monday, sending people diving under desks and huddling in doorways. The U.S. Geological Survey said an earthquake with a magnitude of 5.4 struck near the town of Willow at 11:28 a.m. The epicenter was 58 miles from the state's largest city, Anchorage, where the rumbling continued for several moments.
Wednesday, December 21, 2005 1:29 pm
WASHINGTON - The Senate blocked an attempt to open an Alaska wildlife refuge to oil drilling Wednesday, foiling an attempt by drilling backers to force the measure through Congress as part of a must-have defense spending bill.
Tuesday, February 23, 2010 7:54 pm
A Gilbert man accused of raping his 21-year-old female college roommate at his coed dorm in Juneau, Alaska, could face up to 475 years in prison for the offense.
Sunday, January 31, 2010 12:51 pm
JUNEAU, Alaska — The fallout from Sarah Palin's hasty retreat as governor is being cleaned up by the man she appointed attorney general in her waning days in office.
Friday, July 3, 2009 1:08 pm
WASILLA, Alaska -- Alaska Gov. Sarah Palin abruptly announced Friday she is resigning from office at the end of the month, a shocking move that rattled the Republican party but left open the possibility she would seek a run for the White House in 2012.
Monday, March 23, 2009 2:50 pm
WILLOW, Alaska - Alaska's Mount Redoubt volcano erupted five times overnight, sending an ash plume more than 9 miles into the air in the volcano's first emissions in nearly 20 years.

In this photo released by the Alaska Volcano Observatory/U.S. Geological Survey, steam rises from the top vent in the summit crater of Alaska's Mount Redoubt, March 21, 2009.
Friday, October 31, 2008 12:39 am
Republicans John McCain and Sarah Palin summon antidemocratic images of a communist state to attack Democrat Barack Obama's tax plan and his comment about spreading the wealth around. But in her home state, Palin embraces Alaska's own version of doing just that.
Tuesday, September 23, 2008 5:24 pm
All this talk about Sarah Palin is making me homesick. In 1975, just out of college, I fled Los Angeles for the Last Frontier. My Great Alaska Adventure lasted 15 years, until I was so sick of icy roads and rainy summers that I just had to get out. But, in reality, I've never been able to let it go.
Sunday, June 29, 2008 10:56 pm
ANCHORAGE, Alaska - A 14-year-old girl riding in a mountain bike race was attacked in the dark of night by a bear Sunday and severely injured, but she was able to make a brief 911 call that eventually resulted in her rescue.
Thursday, May 22, 2008 12:36 am
ANCHORAGE, Alaska - The state of Alaska will sue to challenge the recent listing of polar bears as a threatened species, Gov. Sarah Palin announced Wednesday.

In this 2003 file photo provided by Subhankar Banerjee a polar bear walks in the Arctic National Wildlife Refuge. The Interior Department has declared the polar bear a threatened species, saying it must be protected because of the decline in Arctic sea ice from global warming
Sunday, July 15, 2007 1:04 pm
ANCHORAGE, Alaska - Forget piddling around a mere few days for an iPhone. Two sisters are in the midst of an 11-day vigil for this summer's hottest, "must have" low-tech phenomenon - the latest Harry Potter novel.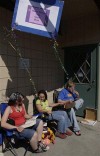 Chloe Bostian, 18, left, Sydney Bostian, 11, middle, and Graham Toroff, 18, wait in line at Gulliver\'s Books on Thursday, July 12, 2007, in Fairbanks, Alaska, for the seventh and final Harry Potter book.
Saturday, September 30, 2006 7:04 am
ANCHORAGE, Alaska - The shutdown of a satellite field on Alaska's North Slope will not stop BP PLC from beginning the process of cleaning out a corroded transit line in the nation's largest oil field.
Friday, June 16, 2006 12:30 am
DENVER - With another tinderbox summer shaping up in much of the West, officials issued red-flag fire warnings for Colorado on Thursday, while in Arizona a roaring blaze forced the evacuation of about 1,000 homes.

In this photo provided by Dan Oltrogge\'s Type I Southwest Incident Management Team, smoke from the Navajo Mountain #1 Fire rises over land on the Navajo Reservation in southern Utah, just over the Arizona border, Wednesday, June 14, 2006.
Wednesday, July 25, 2012 8:27 am
ANCHORAGE, Alaska — A new video initiative is bringing the famed brown bears of Alaska's Katmai National Park directly to your computer or smartphone.
Thursday, June 23, 2011 9:56 pm
ANCHORAGE, Alaska (AP) — The Alaska Earthquake Information Center says a major earthquake with a preliminary magnitude of 7.2 has been recorded in the Pacific Ocean off Alaska's remote Aleutian Islands.