Monday, October 15, 2012 6:49 am

An Arizona soldier was killed in the line of duty Saturday.
Sunday, June 19, 2011 8:00 am
Stationed more than 7,000 miles and 12 time zones away, Moses Sanchez of Ahwatukee Foothills knows how important it is to stay in close contact with his family.
Sunday, June 19, 2011 8:00 am
Stationed more than 7,000 miles and 12 time zones away, Moses Sanchez of Ahwatukee Foothills knows how important it is to stay in close contact with his family.
Tuesday, May 31, 2011 12:12 pm
Susan Stamper Brown, guest commentary

U.S. Senator John Kerry speaks during a press conference at the U.S. embassy in Kabul, Afghanistan, Sunday, May 15, 2011. U.S. Sen. John Kerry says the U.S. relationship with Pakistan is at a "critical moment" because of the killing of Osama bin Laden. But he also said that bin Laden's death may present a new opportunity for reconciliation with the Taliban in Afghanistan. (AP Photo/Musadeq Sadeq)
Monday, September 20, 2010 3:45 pm
A 22-year-old Mesa woman has been killed while fighting in Afghanistan, according to the Department of Defense.
Tuesday, November 24, 2009 11:55 pm
WASHINGTON — War-weary Americans will support more fighting in Afghanistan once they understand the perils of losing, President Barack Obama declared Tuesday, announcing he was ready to spell out war plans virtually sure to include tens of thousands more U.S. troops.
Tuesday, October 27, 2009 3:08 pm
Martin Schram: Down in the top-secret depths of the White House Situation Room,  President Barack Obama and a table full of officials went through the long-awaited results of the Pentagon's new war game, designed to predict outcomes of two troop strategy options in the once-won, then-neglected, now-grim Afghanistan war. What has been happening in the Situation Room during the last six weeks is what should have been happening there during the last eight years of the previous administration.
Monday, October 5, 2009 10:38 am
The Obama administration is divided over a request by the top military commander in Afghanistan, Gen. Stanley McChrystal, to send up to 40,000 more U.S. soldiers to the embattled nation.

This photo provided by the White House shows President Barack Obama meeting with Gen. Stanley McChrystal, the top commander in Afghanistan, Friday, Oct. 2, 2009, aboard Air Force One in Copenhagen, Denmark.
Friday, September 4, 2009 12:22 pm
Taylor Jones: It's hard to "clear, hold and build" piles of rubble punctuated by poppy fields. Why re-enact the Charge of the Light Brigade? 
Thursday, February 28, 2008 9:27 pm
LONDON - The secret is out: Prince Harry has been serving on the front line with his British army unit in one of Afghanistan's most lawless and barren provinces.
Thursday, February 21, 2008 5:43 am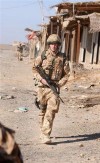 In this image made available in London, Thursday Feb. 28, 2008, Britain's Prince Harry patrols through the deserted town of Garmisir, Afghanistan, close to Forward Operating Base Delhi, on Wednesday Jan. 2, 2008.
Saturday, November 10, 2007 10:09 am
KABUL, Afghanistan - Six U.S. troops were killed when insurgents ambushed their foot patrol in the high mountains of eastern Afghanistan, officials said Saturday. The attack, the most lethal against American forces this year, made 2007 the deadliest for U.S. troops in Afghanistan since the 2001 invasion.
Sunday, October 28, 2007 6:49 am
An Army soldier from Glendale has been killed in combat in Afghanistan along with a comrade from Oregon.
Sunday, October 28, 2007 7:07 am
The Chandler-Gilbert Community College Phi Theta Kappa organization will host "Afghanistan After the Taliban" via live satellite broadcast from 4:30 p.m. to 5:30 p.m. Tuesday in Room C110 on the college's Pecos campus, 2626 E. Pecos Road, Chandler.
Wednesday, January 17, 2007 5:51 am
KABUL, Afghanistan - NATO-led troops and Afghan forces detained a prominent Taliban commander during a raid on a compound in southern Afghanistan, the alliance said Wednesday.
Thursday, June 16, 2005 2:29 pm
KABUL, Afghanistan - Osama bin Laden and Taliban chief Mullah Mohammed Omar are not believed to be in Afghanistan anymore, the U.S. ambassador said Thursday, raising fresh questions as to the whereabouts of the elusive terror mastermind.
Sunday, August 26, 2012 12:00 pm
I take issue with Mr. O'Malley's letter in Wednesday's edition. Primarily, I contest his statement that there is an undefined mission for the United States military in Afghanistan.
Saturday, July 28, 2012 1:11 pm
PHOENIX (AP) — The Arizona National Guard is sending some of its soldiers to Afghanistan to help advise and assist police forces.