Monday, November 17, 2003 7:40 pm

Now that Valley voters have overwhelmingly endorsed formation of a county hospital district, the Board of Supervisors may be tempted to view it as an open checkbook to fund a wish list of upgrades for the Maricopa Medical Center.
Thursday, March 15, 2007 3:31 am
Gov. Janet Napolitano lashed out Wednesday at the Bush administration for firing Arizona U.S. Attorney Paul Charlton — especially if it was because he didn't prosecute some marijuana cases.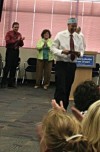 Kyrene del Milenio principal Jim Verrill accepts his Administrator of the Year award at an award ceremony on Wednesday.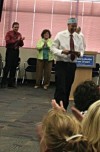 Kyrene del Milenio principal Jim Verrill accepts his Administrator of the Year award at an award ceremony on Wednesday.
Tuesday, June 23, 2009 4:54 pm
Glyn Soehner, the former Chandler benefits administrator who claims he was fired in retaliation for going over the head of a boss in his pursuit of cost-cutting, has reached a settlement with the city.
Sunday, February 3, 2008 10:21 pm
What will 2008 hold for administrative professionals? With so many forces roiling the labor market -- the trend toward just-in-time hiring, an economy squeezed by a credit crunch, technology that both destroys and creates jobs -- it's hard to say. But this perennial truth will hold: Great admins are hard to find, and they will be in great demand.
Tuesday, August 28, 2007 7:06 pm
A large majority of Arizonans approve of a Bush administration plan to curb the hiring of illegal immigrants, and many consider immigration their top issue as they decide on the next president, according to a Cronkite-Eight Poll released Tuesday.
Saturday, July 1, 2006 7:13 am
The Supreme Court has taken another welcome step in thwarting President Bush's authoritarian plans for handling suspects swept up in the war on terror. Earlier it had ruled that the president did not have the power he claimed to imprison suspects indefinitely without charge or access to lawyers and the courts.
Sunday, October 26, 2003 4:38 am
At first, police polygraph examiner L.R. Disser detected what he termed "confusion" when he asked job applicant Helen Gandara-Zavala if she had ever used cocaine.
Friday, June 25, 2010 6:55 am
Maricopa County Sheriff Joe Arpaio's attorneys have filed another lawsuit against county officials, claiming administrators have conflicts of interest that prevent them from choosing lawyers for Arpaio.
Friday, May 28, 2010 3:41 pm
The Obama administration wants the U.S. Supreme Court to void Arizona's 2-year-old law designed to punish companies that knowingly hire undocumented workers.
Thursday, April 1, 2010 2:15 pm
Delfino Aleman, associate superintendent in the Mesa Unified School District,  is one of three finalists for the superintendent job in the Roosevelt School District in Phoenix.
Wednesday, December 9, 2009 1:53 pm
WASHINGTON -- The Obama administration has extended the $700 billion financial bailout program until October, setting up a struggle between Democrats who favor using some of the leftover money to help generate jobs and Republicans who say it should be used to shrink soaring budget deficits.
Monday, December 7, 2009 10:03 am
WASHINGTON — The Obama administration will lose $200 billion less than expected from the federal bailout program and is looking at using part of the savings to fund new job creation efforts.
Friday, February 27, 2009 8:27 pm
Benjamin Harrison: According to the "Fact Check" Perspecitve article in the Tribune on Feb. 1, Matthew Ladner was correct in one part of his article; there is overspending in public education. I may even say that the district level is a bloated leech on the state spending. The rest of the article was rubbish. I can give the scoop in four simple facts.
Wednesday, May 28, 2008 1:39 pm
Barbara Parkin McBride, a special programs coordinator in the special education department at Florence Unified School District, has died, said Larry Cline, a district spokesman.
Monday, June 20, 2005 10:41 am
Ahwatukee Foothills parents frustrated with management at Desert Vista High School have started purchasing advertising space in a community newspaper to vent their concerns.
Tuesday, March 25, 2003 9:04 pm
Bad economic times and volatile jet fuel prices are forcing America West Airlines to lay off some managers and administrators. In addition, the company plans to reduce the fees it pays to vendors by at least 20 percent.
Thursday, November 15, 2012 12:26 pm
The Town of Gilbert's development services director, Greg Tilque, was placed on administrative leave Thursday after 24 years with the town.
Saturday, July 21, 2012 7:12 am
Benedictine University has named a longtime Valley educator to oversee the branch campus it plans to open in downtown Mesa in August 2013. Jo Wilson will serve as the senior administrator for Benedictine University at Mesa and is working on the September opening of an administration service center at 51 E. Main St.
Tuesday, December 13, 2011 4:54 pm
Saying it will save money, the Obama administration is scrapping the production of presidential dollar coins even as an Arizona congressman wants them to replace greenbacks.
Thursday, October 27, 2011 12:58 pm
WASHINGTON (AP) — The Obama administration on Thursday identified 17 sites in six Western states as prime candidates for solar energy projects on public lands, continuing a push for solar power despite the high-profile bankruptcy of a solar panel maker that received a half-billion dollar federal loan.