Steve Schrade, 62, of Phoenix, seen here Wednesday, volunteers as a virtual job coach for the AARP to help people over 40 find employment.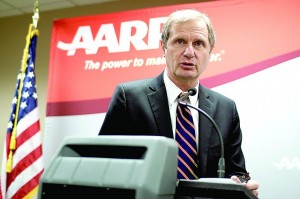 Steve Jennings, AARP's associate state director of advocacy, discusses the growing problem of lack of public transportation for the elderly in the Phoenix metro area at the AARP Arizona offices in Phoenix Tuesday.
Steve Jennings, AARP's associate state director of advocacy, discusses the growing problem of lack of public transportation for the elderly in the Phoenix metro area at the AARP Arizona offices in Phoenix Tuesday.

David Mitchell, AARP Arizona State director, speaks about generational nuances in today's work force, which spans four generations, at the Rio Salado Communiversity Tuesday.
Sunday, September 5, 2004 8:12 am
Sunday, September 5, 2004 8:11 am
Sharlot Hruska loves her job. Though the 70-year-old woman officially retired as a radiology transcriptionist at 65, Hruska continues to work a few shifts a month at Scottsdale Healthcare.
Wednesday, May 4, 2011 12:30 pm
For the first time in modern history, AARP officials say, workplace demographics now span four generations, creating a challenge for managers attempting to relate to all the differing age groups represented in their businesses. People are living longer, healthier lives and are not necessarily intent on retirement, according to AARP.
Monday, July 23, 2007 4:41 am
ATLANTA - Urban renewal plans that favor mass transit, encourage walking, and allow older people to downsize while staying in their neighborhoods are the reasons that led the AARP to recognize Chandler, Atlanta, Boston's Beacon Hill, Milwaukee and Portland, Ore. as the best places for seniors to live.
Wednesday, August 31, 2005 6:57 am
Scottsdale Healthcare will be honored as one of the nation's Best Employers for Workers Over 50 by AARP for the third year in a row.
Friday, September 30, 2011 8:00 pm
Every Wednesday, 62-year-old retiree Steve Schrade makes his way from his home near 67th Avenue and Happy Valley Road to a small AARP office in downtown Phoenix.
Tuesday, November 27, 2007 7:30 pm
NEW YORK - Caroline Kennedy turned 50 Tuesday, becoming eligible for membership in AARP. But the nonprofit organization for people 50 and over has bigger plans for Kennedy, daughter of President John F. Kennedy and his wife, Jackie.
Wednesday, February 1, 2012 4:00 am
It's that time of year again when Arizonans are collecting information to file their annual federal and state tax returns. This year's deadline for filing taxes is April 17.
Thursday, April 14, 2011 5:45 pm
Recognized for its wealth of information, news resources and multimedia offerings geared specifically at the 50-plus population, AARP's website, www.AARP.org, is among the nominees announced for the 15th annual Webby Awards.
Wednesday, December 2, 2009 10:24 pm
WASHINGTON - With a Senate showdown looming, the politically potent AARP rode to the rescue of Democrats on Wednesday, supporting $460 billion in Medicare cuts to help pay for landmark health care legislation. As Republicans pressed to restore the cuts, AARP said Democrats merely were recommending elimination of waste and inefficiency within the giant health care program for seniors.
Wednesday, November 4, 2009 8:10 pm
WASHINGTON - In a coup for House Democrats, AARP will endorse sweeping health care overhaul legislation headed for a history-making floor vote, officials told The Associated Press on Wednesday. An endorsement from the seniors' lobby was critical when then-President George W. Bush pushed the Medicare prescription drug benefit through a closely divided Congress in 2003. House Democratic leaders are hoping it will work the same political magic for them as they strive to deliver on President Barack Obama's signature issue. 
Thursday, November 5, 2009 12:07 pm
WASHINGTON -- President Barack Obama scored two major endorsements for his health overhaul push Thursday and trumpeted the news as House Democratic leaders pushed toward a vote Saturday on far-reaching legislation remaking the U.S. health care system.
Sunday, September 6, 2009 4:47 pm
Joseph A.J. Felcon: I do not understand those who felt compelled to spend a trillion dollars to free Iraq and are now concerned about the deficit. Why is health care for all Americans less of a moral imperative?
Friday, March 21, 2008 9:42 pm
NEW YORK - Jamie Lee Curtis went shirtless to pose for AARP The Magazine. Curtis is shown sporting gray hair and wading in water up to her chest on the cover of the magazine's May/June issue, which will be available Monday.

In this image released by AARP, Jamie Lee Curtis is shown on the cover of the May/June 2008 issue of "AARP The Magazine," on sale at newsstands Monday, March 24.
Tuesday, July 31, 2007 6:34 am
If East Valley baby boomers are any indication, this wideranging, free-wheeling group of 78 million will be dragged into retirement kicking and screaming.

A biker makes his way through the Paseo Trail in Chandler. AARP magazine has named Chandler among five of the country's most livable cities.
Wednesday, March 9, 2005 5:16 am
The AARP Foundation last week debuted an Internet site highlighting companies open to hiring job seekers ages 50 and older.