Photo: Couple celebrate 70th anniversary on Valentine's Day
Hospital helps Mesa couple celebrate 70th anniversary on Valentine's Day David Delosa, 91, hadn't planned on being a patient at Banner Heart Hospital on his 70th anniversary. But that didn't keep him from celebrating his longtime marriage to Dorothy Delosa, 86, on Valentine's Day. The Delosas are winter residents in Mesa. High blood pressure and a concern about his health led David Delosa to the hospital earlier this week. On Thursday, hospital employees surprised the Delosas with an anniversary cake, and several family members traveled from as far as Long Island and Kansas to visit the couple. David Delosa plans to return home this week to spend time with his family. [Photo Courtesy of Banner Heart Hospital]
Images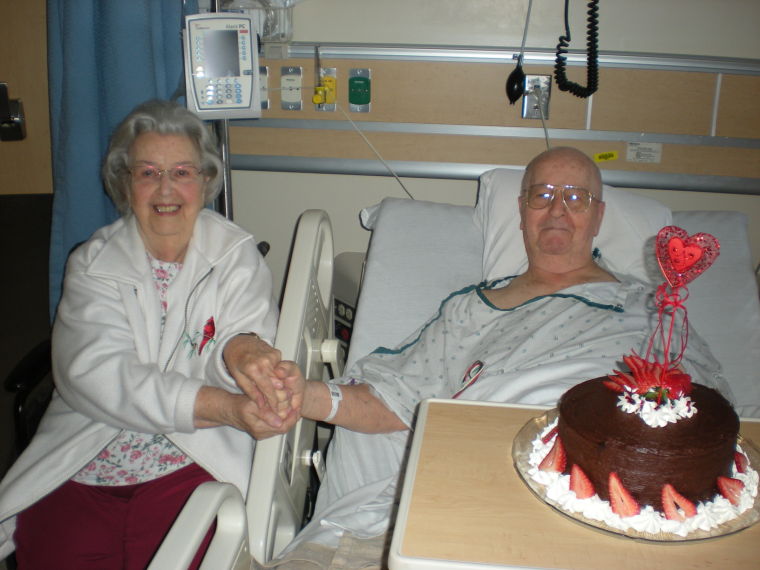 70th anniversary on valentines
Hospital helps Mesa couple celebrate 70th anniversary on Valentine's Day
David Delosa, 91, hadn't planned on being a patient at Banner Heart Hospital on his 70th anniversary. But that didn't keep him from celebrating his longtime marriage to Dorothy Delosa, 86, on Valentine's Day.
The Delosas are winter residents in Mesa. High blood pressure and a concern about his health led David Delosa to the hospital earlier this week.
On Thursday, hospital employees surprised the Delosas with an anniversary cake, and several family members traveled from as far as Long Island and Kansas to visit the couple.
David Delosa plans to return home this week to spend time with his family.
  [Photo Courtesy of Banner Heart Hospital]